A New Study of Astrology
An Introductory Textbook to the New Understanding of an Old Science
By John M Addey
This book offers a rare, highly stimulating and provocative feast of previously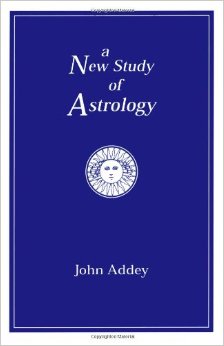 unpublished observations and insights by one of the most outstanding philosophers, theoreticians and experimentalists in astrology. John Addey was in the midst of preparing this volume to expound his final thoughts on the nature of astrology when he died in 1982. The various completed sections and chapters which he left have been pieced together with other previous unpublished work to provide as complete a text as is possible in line with the author's original plan and stated intentions. These new, and for the msot part previously unpublished writings are complemented by the full text of his two seminal monographs, Astrology Reborn and The Discrimination of Birthtypes, which have for long been unobtainable, and so provides the astrological student and researcher with a powerful companion volume to Addey's earlier classic work Harmonics in Astrology.
A New Study of Astrology, like Harmonics in Astrology, provides essential reading and study for everyone interested in developing a coherent and philosophically sound approach to astrological research, and for those who seek to clarify and enlarge our understanding of astrology's fundamental principles. This major work will equally inspire the imagination of those who seek to uncover a larger vision of the cosmos and its underlying order and harmony.i
ISBN 1-871898-06X 272 pages Price: £14.00 (Hardback)
Order our books from your local bookseller or directly from us (post free in the UK). For customers in Europe, please add £2 per book; customers outside Europe, please add £5 per book.
The followiing methods are accepted for payment:
Use the "add to cart button" above - we use the secure Paypal system which allows the customer to check out
using a credit or debit card.
Via ordinary post enclosing a sterling cheque to Eyebright Books, 7 Pine Crest Way, Bream, Lydney, Glos, GL15 6HG, UK.
You can phone us on 01594 (044 1594 outside the UK) 726296 for further details, or contact
us by email on averil@eyebright.org.uk